We are closed from 19.12.2022 – 08.01.2023 (Winter break). During this period we have workshops for the dancers that still want to dance. More information bellow: "Your next workshops".
E-Mails will be answered starting 03.01.2023. 
Welcome to
DanceWithGeorge
Kizomba Basic (Tuesday) – 10.01.2023
Salsa Basic (Wednesday) -11.01.2023
Bachata Basic (Monday) – 09.01.2023
Salsa Basic (Friday) – 13.01.2023
Because of holidays All E-Mails will be answered starting 03.01.2023
🕺❄️
Winter Workshop Series with George
❄️💃
Bachata Workshops:
Back to the basics -Tu. 03.01 – 18:30-19:30 (with partner)

Spins and turns -Tu. 03.01 – 19:40-20:40 (no partner needed)

Leading and following tips and tricks -Thu. 05.01 – 18:30-19:30 (with partner)

Styling with the partner -Thu. 05.01 – 19:40-20:40 (with partner)

Practice with private tips  -Thu. 05.01 – 20:50-21:50 (with partner)
If you have questions about our dance school, the courses, the registration system, etc.,  have a look first at our frequently asked questions, you might find the answer there.
Watch our video for the easiest way to sign up for our courses.
PREVIOUS REGISTRATION & ONLY WITH PREREGISTERED DANCE PARTNER.  
Do you need a partner? Click the button below.
Please notice! Registration for our courses is mandatory.
If you register a new account in our system it will take a few hours until the account can be fully used.
DWG IOS App
Download the DWG IOS App and have the course schedule and your booked lessons always at hand.
DWG Android App
Download the DWG Android App and have the course schedule and your booked lessons always at hand.
Something for everybody
DanceWithGeorge offers you not only dance courses but also other great opportunities to develop your skills and grow.
Save Money with DWG Membership
Book a DWG membership for 3 or 6 months and save a lot of money.
All You Can Dance
You don't get enough of our classes. With the All You Can Dance package you have access to all our courses.
DWG Gift Card
Our DanceWithGeorge Gift Card are the ideal gift. Invite your friends, acquaintances and family join the amazing world of dance.
Private Lesson
Do you need personal guidance in your evolution as a dancer. Our system of private classes will make you become the dancer you have always dreamed of in a very short time.
Wedding Dance
Celebrating your big day with an amazing wedding dance. Our teachers will build a choreography made on a song of your choosing.
About
We are a creative and high spirited team of dance teachers that love sharing their passion for dance with you.
Our motivation is to create a dancing community that not only enjoys dance classes but also goes to events and international festivals together, exchange dancing experiences and share their passion with others.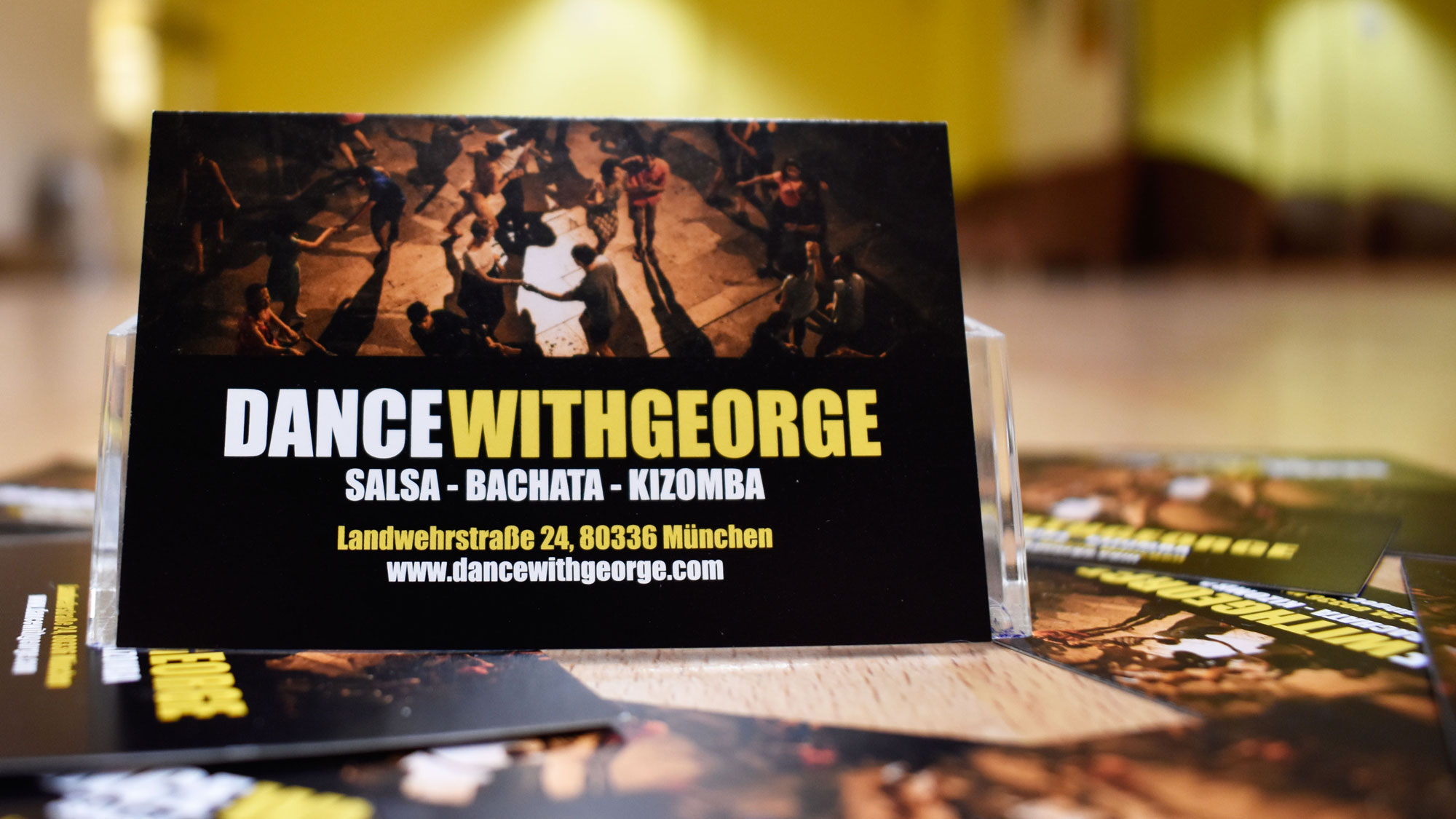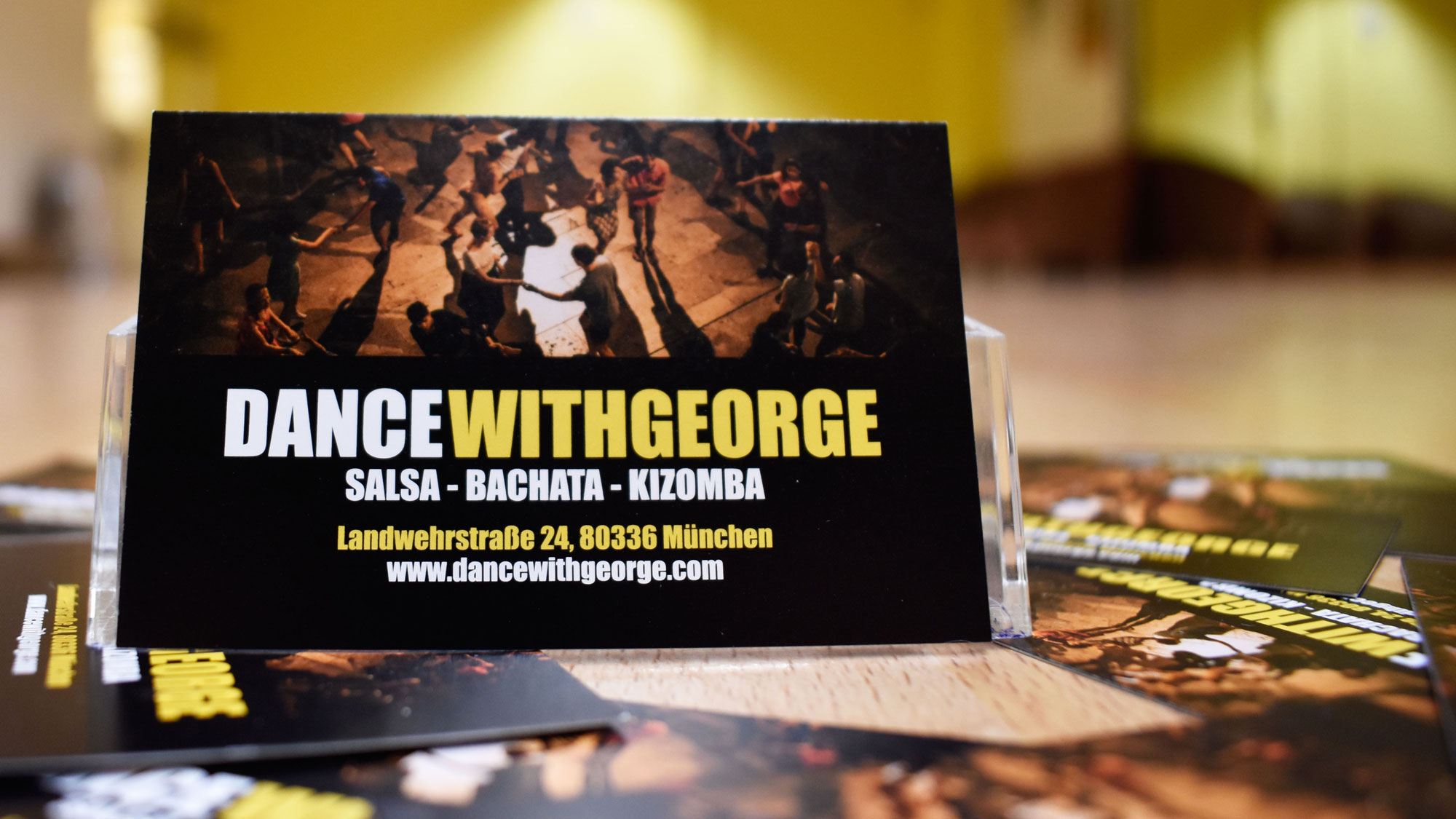 Location
Our dance school with two large rooms is located in the centre of Munich, 10 minutes walk from the main station and Stachus near the Deutsches Theater.
ONLINE COURSES
Dear customers join our online dancing platform  DanceLiveTV.com and experience the Salsa, Bachata, Kizomba, Lady & Men Styling, Yoga, Dancers workout, Split challenges, and more from the commodity of your home.
Sign up this month and pay 35€/month.
If you buy the All Styles you can pay only 50€/month instead of 85€ using the "packndance" coupon code.
Let's dance!
"Sehr gute Lehrer. Man sollte sich nicht von der Location abschrecken lassen. Die Tanzschule ist super."