Just try it out
With our packages you can participate flexibly in our courses and find your favorite course or just try something new. A previous registration until 14 o'clock is necessary.
Salsa Courses
Salsa is pure energy and dancing salsa is one of the most incredible experiences. Born in Cuba and modernized in the USA today the salsa scene is huge and it is the most known "body language" spoken all over the world. The music inspires passion, love and connection so prepare yourself, it will take your breath away.
Bachata
Pure sensuality and passion, originally from the Dominican Republic, Bachata is a danceable rhythm that results from the mix of different music from all over the Caribbean. To dance the rhythm of the Bachata, an own format has been composed that shares elements with other Caribbean rhythms.
Kizomba
Welcome to the amazing world of Kizomba. Kizomba is a genre of dance and a Portuguese language musical genre originating in Angola in 1984. From day one our students learn how to connect with the partner, lead and follow and of course experience the warmth of Kizomba, the so called "African Tango".
Zumba & Hip Hop
Zumba is a fitness program that combines Latin and international music with dance moves.
Discover the world of street dance, break dance, house, afro and hip hop combined in one course. Get your freak on and learn cool moves and small choreographies.
Choreo Courses
In these courses you learn over 8 weeks a complete choreography with which you shine on every dance floor. A heart full group experience to improve your flow, variety and connection of steps.
There is the possibility to perform the choreography at festivals and events for the dancers that see themselves prepared for it. 
Urban Kiz
Is a subtype of Kizomba which was born from the new Kizomba styles of music (Zouk Bass, Ghetto Zouk, etc). Urban Kiz is characterised by fast changes in the rhythm and flow of the dance, syncopation, where the leading and following process is lineal. The steps require a lot of technique, control of balance and body isolation as well as great musicality.
Private Lesson
Do you need personal guidance in your evolution as a dancer. Our system of private classes will make you become the dancer you have always dreamed of in a very short time.
Vouchers
Our DanceWithGeorge vouchers are the ideal gift. Invite your friends, acquaintances and family join the amazing world of dance.
Workshops
In our workshops we show you steps and tricks for which there is no time left in the normal courses. Learn additional technique, musicality and special elements.
About
We are a creative and high spirited team of dance teachers that love sharing their passion for dance with you.
Our motivation is to create a dancing community that not only enjoys dance classes but also goes to events and international festivals together, exchange dancing experiences and share their passion with others.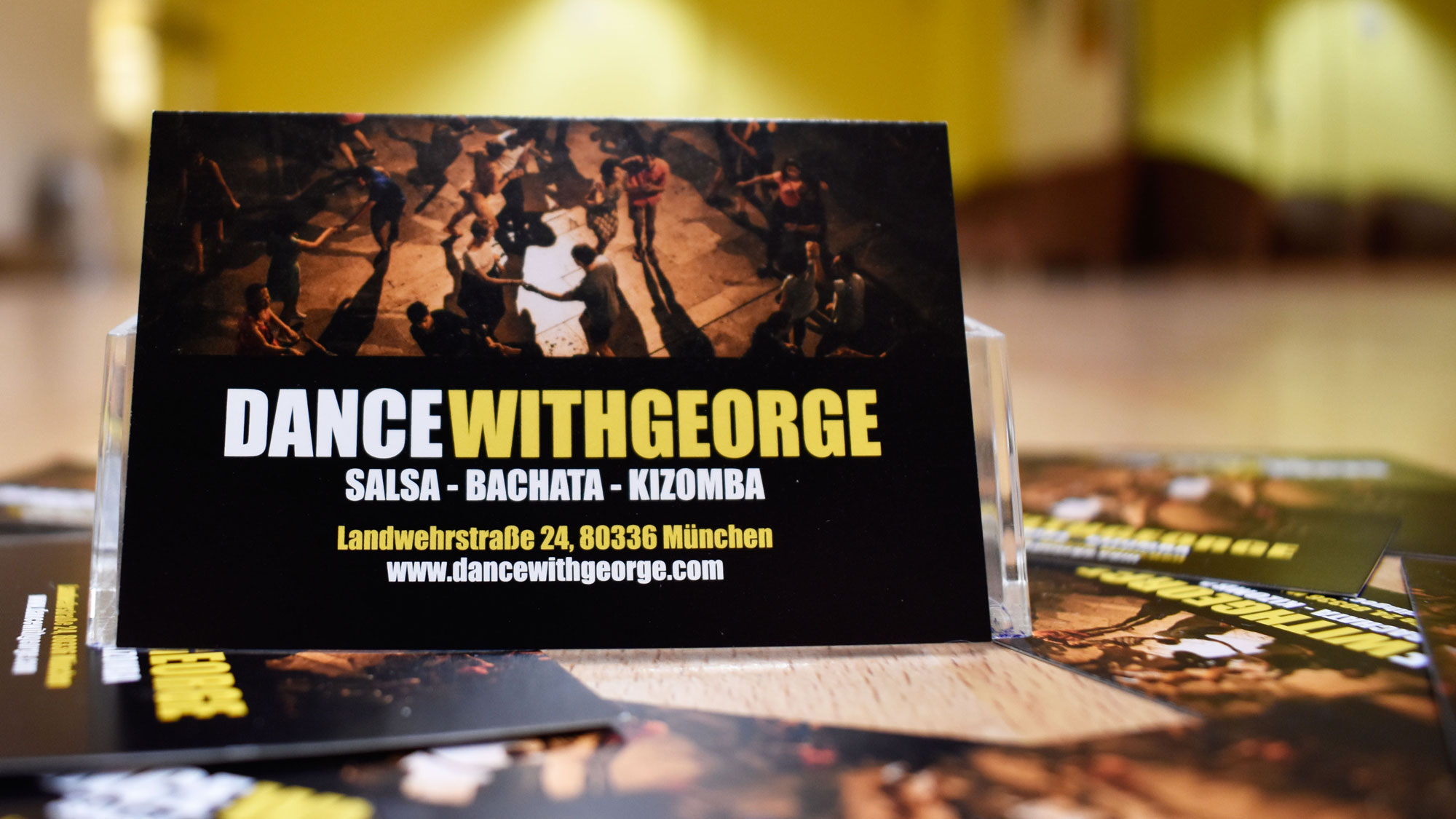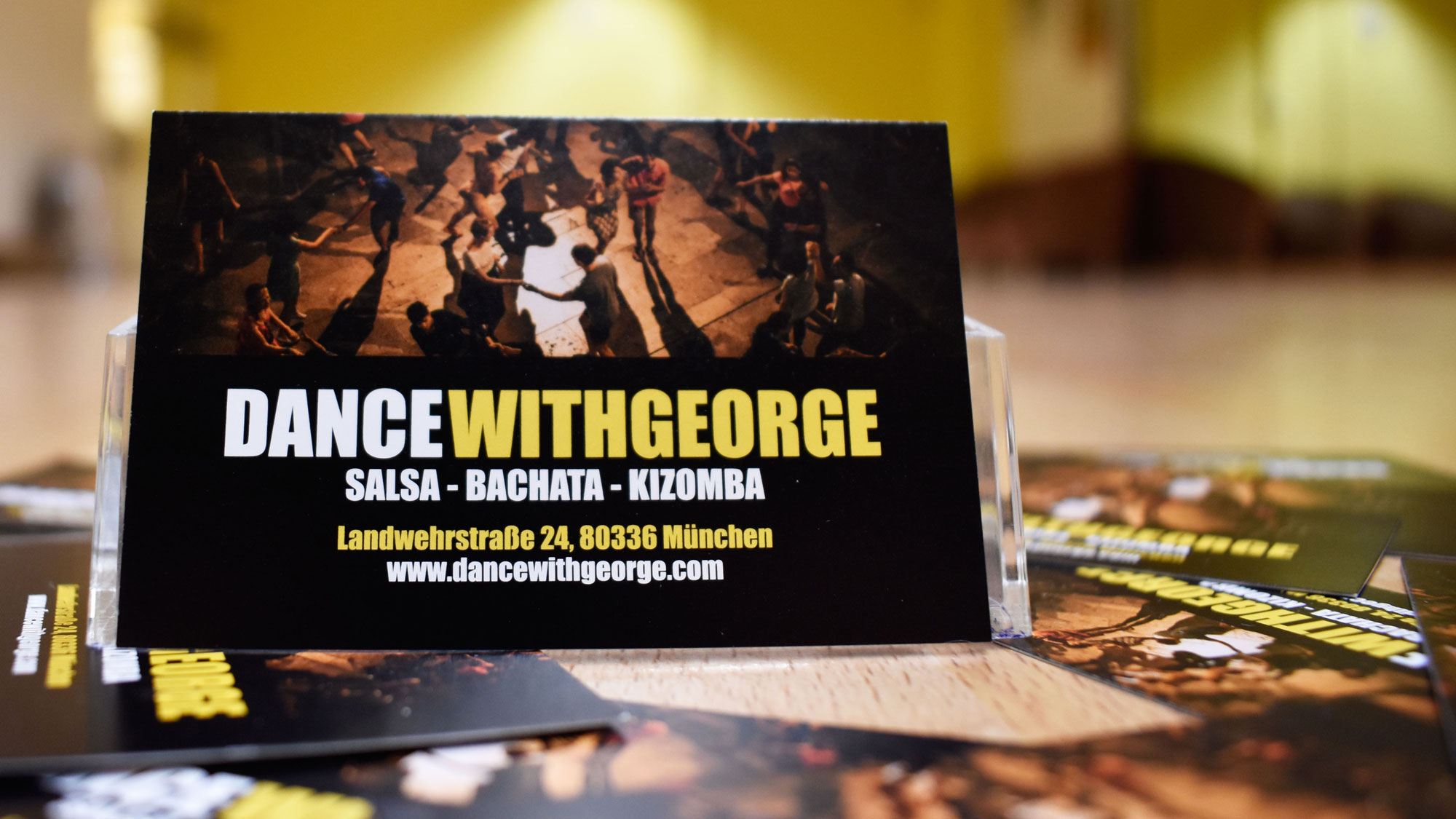 "Sehr gute Lehrer. Man sollte sich nicht von der Location abschrecken lasen. Die Tanzschule ist super."